Testimonials
Karate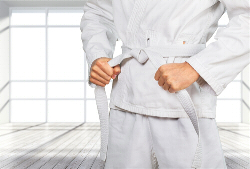 I compete in Karate/Kickboxing at a world class level. However after the 2013 world championships, I started not doing as well in my fights as I should. I knew what I needed to do in my fights, but I just couldn't do it. So I decided to see Dr. Edmunds, who had helped me out with my learning disabilities a couple years before.
We discussed what I thought was happening and why it was happening, and then we would figure out different ways of overcoming my problems when I fought. We created a pre-fight routine where I visualize my self being calm, and going forward, fighting smart and doing what I want to do in my fights. We then put it on paper so I can bring it to every fight. Dr. Edmunds also had me create a vision board for my Karate/Kickboxing. On the vision board, he had me put pictures that I felt represented something that I need to fight my perfect fight, such as a lion which symbolizes being fierce and attacking my opponent with ferocity and never stopping till I win.
Dr. Edmunds had me create phrases to put onto my vision board to think about right before the start of my fight. Dr. Edmunds also made sure that I knew that no matter what happens in a fight, my parents, coaches, friends and Dr. Edmunds himself will always be proud of me. He also told me that before every fight, I'm to not only believe that I'm going to win, but if I lose, than I'm losing in a ball of flames and trying my very best. After doing everything that Dr. Edmunds taught me, I won a silver medal in our provincials of 2014, at nationals I won another silver medal, and in the 2014 world championships I won the bronze medal. Dr. Edmunds really helped me develop my mental preparation and mental toughness for competition.
Greg Overend


We are happy to provide a strong letter of recommendation for your service as a sports psychologist. Both our children have benefited from your expertise in the past and continue to benefit now. Hailey and Greg felt comfortable sharing information with you and have enjoyed your open discussions. As an experienced sports psychologist, you bring good insight into the inner workings of an athlete's mind, and can determine the best approach for each child. We trust that the cause(s) of our children's issues were identified and we appreciate your ability to provide strategies, as part of an overall plan, to address their specific challenges and move our children forwards with confidence.
Performance is so much more than physical preparation and final outcome, which is where the typical sports coach spends time. However, with your help, we are reassured that our children were feeling prepared psychologically as well, before, during and after an event. Hailey set many personal bests after working with you and Greg has now made the national karate team for the third year.
We can better support our children by understanding where and why they need to better prepare and focus themselves. We can also better support them by knowing how to reinforce what each child needs to do mentally in order to do the best they can. Our children knew they could rely on the unwavering support of both their parents and you. What they have learned from you about themselves and strategies around mental toughness, focus and confidence can be carried over into non-athletic aspects of life as well. In discussing the change in her outlook, Hailey once said to us: "Dr Edmunds has changed my life."
Leslie and I thank you for all the help you have provided to Hailey and Greg over the past few years. It has really been worth it.
Tom Overend and Leslie Post

(Parents of Hailey and Greg)

Hockey
Our 14 year old son has been a AAA goalie throughout his hockey career. Last year, he joined a new team where the head coach is notoriously hard on goalies. We knew this was going to be very challenging environment, so we started working with Alan in the pre-season. He and our son had several face to face meetings, Alan came to practices and games, and there were weekly calls throughout the season.
It is not overestimating it to say that without the work Alan did with him, our son likely would not be playing hockey anymore because the team environment was so negative. Alan taught our son to focus on his own game – to not worry about the distractions – to listen to his own inner voice - to focus in preparation for a game – and to stay focused and upbeat no matter what happened on the ice or in the locker room.
We continue to work with Alan because he really knows how to really help young athletes with the mental part of their game. We highly recommend him.
Running
II started working with Alan about a year out from the London 2012 Olympics. I had missed the 2008 Games by a half a second in a four minute race and deep down was still devastated, to the point where I was afraid to put myself out there again. Alan helped me confront those emotions and fears related to risk taking again. What I liked about Alan's approach is that I knew the strategies we developed together were tailored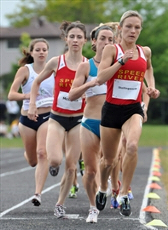 specifically for what I needed - just like a good coach plans training around specific athletes - that's the high performance strategy I was used to in all other aspects of my athletic life and Alan really completed the gap I was missing on the mental performance side. He talked me through strategies on visualization, positive self-talk, cuing and re-framing, all of which became as regular in training to me as intervals.
When it finally came down to qualifying for the London Olympics I ended up achieving this in the least ideal circumstances: I got food poisoning 48hrs before the race and couldn't even warm up without being nauseous. Although I was very fit in this race, I can honestly say it came down to all my mental training because I was in no condition to run as fast as I did to gain my spot on the Olympic team. Now when they say it's 90% mental, I can vouch for that. Don't get me wrong, you still need to work your butt off to be a good athlete, but if you're not doing mental training, I don't think you're doing everything possible to be the best athlete you can be. I know I'm checking all the boxes to get to my optimal state of performance and I know no matter what happens I will be satisfied with being all in. That's something Alan has really helped me realize.
Hilary Stellingwerff

2012 Canadian Olympic Team
1500 metres

Curling

As the curling coach for a high performing youth team a few years back, I was seeking assistance in preparing our team for an international U-18 championship. The team consisted of four lads who were growing physically and emotionally and, like many athletes in this age group, the mental and emotional side was getting in the way of consistent performance. I began looking to the mental side of the game to help offset some of the loss of confidence and frustration that was setting in. Mental coaching was a relatively new idea at the time, especially in the bantam/junior age group, but in consultation with the boys' parents we decided to look to ideas that would not only benefit them as athletes, but in their personal development as well. I had attended a talk Alan had given on Auto Focus and called him up and asked if his process could be applied to the game of curling, and if so, would he consider working with our young team. As it turned out, Alan had curled in his junior years and after meeting the boys he agreed to assist us.
Alan took the time to meet and observe the team and set in motion a process that would help the boys meet their potential. Emotions often run high with teenage boys; Alan's approach was not to try and eliminate emotion, but to harness and use it to attain positive outcomes. He didn't use "airy-fairy" concepts, but specific tools and tactics that each athlete could use to sharpen their focus at the precise time of shot execution to achieve desired results. Team dynamics improved as individual confidence grew. During this process, Alan was open and transparent in sharing his approach with coaches and parents.
From a team perspective, Alan was instrumental in helping us develop a competition plan that mentally prepared us for a series of events that we may or may not experience during competition. As it turned out, the boys had an excellent week at their big event. The deeper we went into the competition, the more we saw how the competitive pressures began to affect some really good teams. Our team, on the other hand, became stronger and stronger, primarily because of the preparation exercises Alan had guided us through. The team realized how their mental preparation was paying off, and it showed in their confidence and strut. In the end, results spoke for themselves as the boys won the Silver Medal in the U-18 tournament and followed that with the Gold Medal at the Ontario Winter Games a few months later. It's hard to convince teenage boys to buy into mental preparation, however the work that Alan did with our team has had lasting results, not just in sport, but in the strong character of these young men now.
Darren Chapman

Trying to balance the academic workload from school with the commitments I had to my team as a top-level junior curler became extremely tough. Luckily, that is when I met Alan. He was able to help me in three areas: 1) as a member of a high-level sports team; 2) on an individual athlete level; and, 3) as an academic student.
When my curling team started meeting with Alan, we began to work on and understand the importance of the mental side of the game. Initially, Alan was a teacher to us and really helped our team understand the importance of mental toughness. Then Alan really became a member of our team through the different exercises and programs he introduced to us including everything from short-term & long-term goal setting to pre-tournament preparation. The following year we ended up placing 2nd at a high level event. Without Alan's help that would not have been possible.
On an individual level, Alan helped me immensely as an athlete. When it came to sport, I always had a temper that hindered my performance. Through working with Alan, I learned many ways to not only contain my temper in a way which would not affect my team but also ways to release my anger and let go of my frustration as to not hinder future performance. I continue to use these techniques in both sport and my everyday life. Another area where Alan helped me personally was with having my father as a coach. I had a hard time appreciating that away from the ice, my Dad was my Dad but on the ice he was my coach. This created tension and problems between my Dad and myself, and also with my team. Through working with Alan, I learned to be able to separate my Dad's roles as a father and as a coach, which ultimately helped my relationship with my Dad and impacted the success of my team in a positive way.
Alan also helped me as an academic student. Like many teenagers, I had lost my way and didn't put the amount of effort into school that I needed to be putting in. Through working with Alan, I regained an appreciation for the importance of school and I learned several techniques to help balance and complete my workload, as well as techniques to successfully balance my academic life with my athletic life. Before meeting Alan, it was unlikely that I would even attend university and now I am entering my fourth year at the University of Western Ontario as an accounting major. The success that I have had as an athlete and student is directly attributable to working with Alan and without him I would not be where I am today.

Aaron Chapman
Triathlon

I can still hear the voice of Alan Edmunds in my mind "when the training session gets tough, know that this is another tool in your toolbox". In each race I drew out the mental tools I needed. I learnt to visualize my race. I learnt how to overcome obstacles. With Alan, I learnt the value of preparing the mental game with equal weight to the physical. Alan supported me to lay the foundation of my mental strength in order to achieve success in triathlon (2 x Ironman 70.3 Champion). As a coach now I still hear myself tell my athletes many of the lessons that Alan gave me like when you need to dig deep into the toolbox. To me this is the biggest testament of the capabilities of a sport psychologist - when the lessons last and are passed on again and again.
Tenille Hoogland
Retired Professional Triathlete
Nutrition Consultant and Coach (TriWHoleHealth)
As a parent, I knew that Tenille needed mental strength and resilience to get through the long hours of training and overcoming countless obstacles. Looking back on her career, I did not know just how much. Alan was instrumental in building a confidence in Tenille that led to her deep resilience. Through Alan she learnt that she did not have to be someone to be good, she just had to be good. Alan supported her in the mental preparation needed in sport. This enabled me to understand my role as a parent - to listen, to support and simply be there.
Dr. Cornelia Hoogland
Golf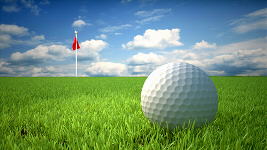 Dr. Edmunds is very knowledgeable about golf and players' psychology. This provided strong basis for him to coach our son over the last three seasons. We saw improvements in many keys areas that are important for young elite golfers such as emotions control, sustaining a high level of concentration and golf management. He provided him with many tools and strategies that are easy to understand and to apply. Our son was able to access Dr. Edmunds in the most challenging moments in a timely manner and always got objective feedback and advices that made him progress quickly. Thank you Dr. Edmunds for the difference you made in our son's life.
Isabel, Yves and Gabriel Gingras

Swimming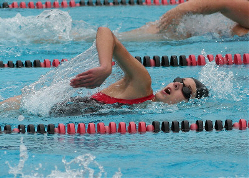 I started working with Dr. Edmunds when I was about 14, five years into my competitive swimming career. At first I was hesitant, but I soon realized the work he was doing with me was very beneficial. It helped me focus on myself and what I needed to do when training, it helped me relax before races and I learned how to truly give it my all. I also learned how to lose the intimidation that I often felt when facing tough competitors. Under Dr. Edmunds' direction, I used imagery to plot out races in my head before swimming them, practicing every stroke and every turn. We made vision boards and we set high but realistic goals for me. My training and racing both improved significantly. Often, younger athletes do not realize just how much competitive sport is not just about physical toughness, but also mental toughness. Learning to focus on myself and my racing and my training changed the way that I swam and this continues to affect the way I view competition today.

Diving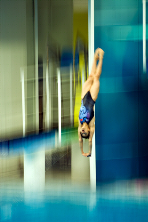 Our daughter is an NCAA platform and spring-board diver. Diving is a fear-based sport and without Dr. Edmunds' structured approach to sport psychology it is unlikely that she would have attained this level of success. Alan came to us years ago at a time when our daughter was stuck in a pattern that was preventing her from reaching the podium. She possessed athletic ability, focus and determination yet her mental game was holding her back from reaching her potential. Alan's techniques and guidance made significant improvements in the areas of both practice and competition. Today our daughter is successfully competing in the NCAA in the USA. She was named freshman diver of the year, and won six diver of the week awards in her conference last season. Testament in itself.
Bill Quesnel
Our daughter has been working with Dr. Edmunds for 2 years during the past diving seasons starting when she was 13 years old. After a couple of years progressing well on the physical side of the sport, our daughter was having trouble positively transitioning results from practice to competition. As parents, we could not articulate to our child how to be ready to compete and a recommendation was made to consult with Alan.
Once Alan and our daughter began working through the process he designed for her needs, we began to see changes in her behaviour. As a parental observer in the process, we watched Alan create the basic foundation of mental preparedness which actually goes beyond sport and is applied into everyday life. Our daughter realized that this is a learned behaviour and a step by step process just like learning the physical elements of a dive.
We watched her confidence grow as she applied these steps in learning new dives and perfecting existing ones.
This journey with Alan has helped us realize that: as our child matures in both her approach to sport and to life perspective is key; the athlete learns what needs to be done and that carries over into the life/school/relationships. Our daughter show a level of maturity beyond her sport and we have to remind ourselves to trust in life as well.
Results are not just the number of medals but lessons that can be applied through life. All without her even realizing it is happening!
We have enjoyed observing the evolution in this ongoing journey that Dr. Edmunds has helped facilitate.
David and Fil Wyatt

As an elite diver, working with Alan allowed me to go to the next level of my career. The mental toughness he instilled in me and the pre-game routine we developed gave me a true competitive advantage. Alan's ability to connect with me as an athlete and dedicate himself to my sport, by attending practices and competitions, made him a very effective coach.
Every week I would meet with Alan and we would create a game plan for the upcoming 6 practices, which would fit into our larger plan for the entire season. At each practice, I would work on the mental and physical routines, my "pre-dive routine", we developed to use before each dive; this helped me become more consistent and relaxed in my execution. When Alan attended my practices, we would talk before and after each dive, about the specific mental tools I was working on that day. This was very helpful as I could make not only the physical changes from my coach, but the mental changes that Alan and I were working on, too. While never a diver himself, Alan was very good at relating to me through his experiences with golf, which allowed him to always have a relevant story to use as a powerful example.
Many athletes worry about their competitors, parents, coaches, teammates, winning, losing, getting hurt and everything else that could possibly keep you up at night. Alan creates strategies to stay focused and "In the Moment", so you are thinking about the process, not the outcome, and thinking about yourself, not other people and external factors.
As an athlete, I was "10" in practice and only a "6 1/2" in competitions. After working with Alan, I was better able to bring my true talents to competitions. Alan helped me prepare for competitions through visualization strategies and looking at all of the possible outcomes for the weekend, and asking me, "If you do your very best, what place will you get in this competition?" Being truly honest with yourself as an athlete is very empowering. We set goals for my scores, tracked my personal bests, and after each meet would review how I scored in the competition and also how I felt in the competition, tracking both the physical and mental outcomes. Before each competition, Alan would tell me, "This is your time to Shine"... I finally felt capable of doing that as the tools and strategies we worked on gave me the confidence and courage to do so.
Alan taught me to bring my "A" game… in the pool and in life. Everything I learned from Alan has played a significant role in my current successes, long after the completion of my diving career.
Torri Olanski